Due to Increased demand for the Unrestricted Surface Supplied Program certified through the Diver Certification Board of Canada the Commercial Diving Institute of Canada has opened course registration for the January and July 2019 course induction dates. If Contact CDI Admissions for course dates and then click on the Apply Now Button on the main page to confirm your seat.
The Unrestricted Surface Supplied Diver qualification is a 'Diver Certification Board of Canada Premier Inshore / Offshore' certification that is recognized by the International Marine Contractors Association (I.M.C.A.).
Canada is very fortunate that a national competency standard for the training of commercial divers has been established by industry and written into the Canadian Standards Association (CSA) codes. Specifically the CSA Z-275.4 is the standard for diver competency to which all accredited schools must achieve when teaching commercial divers. It is the CSA Z-275.5 code that provides the teaching guidelines that accredited schools must follow and are consistently audited back against by the Diver Certification Board of Canada (DCBC). The CSA qualifiations have grown to be not only accepted across Canada but divers holding a CSA Z275.4 Unrestricted Surface Supplied Ratings are accepted world-wide in both the inshore and offshore sectors. Canadian Commercial Diver Ratings are absolutely the coveted rating that most countries are aiming to achieve.
The nature of the industry demands that you have a credential that travels well and is recognized by government agencies so that you can also continue with your diving education when the time is right. The Unrestricted Surface Supplied rating is the first rating which qualifies the diver to work offshore and inshore to 50m. Students are trained in an excellent range of tools, surface decompression on oxygen (Sur-d-02) procedures, hot water diving systems, burning & welding and dive management. The Unrestricted rating also sets the diver up when it is time for more training such as the Diver Medical Technician (DMT), Closed Bell course (Saturation Diver), Unrestricted Supervisor or specialized training such as Nondestructive Testing or Hydrotech Welding. www.divercertification.com
The 21 week fulltime course provided by CDI will insure that all the competency standards for the Unrestricted Surface Supplied rating certified through the Diver Certification Board of Canada will be met by all candidates who step up to the challenge. This is a comprehensive program of study. In support of students academic excellence CDI has developed comprehensive online tools to support your self-study while on course. Each key academic topic and presentation is available online to support student learning through the course. What does this mean? Following an in-class physics presentation a student would be able to review the presentation online, try a practrice quiz and then receive online support for any missed questions. The online support is not going to take away from the instructors job, however it will make life easier for students who need more time to reach their maximum potential.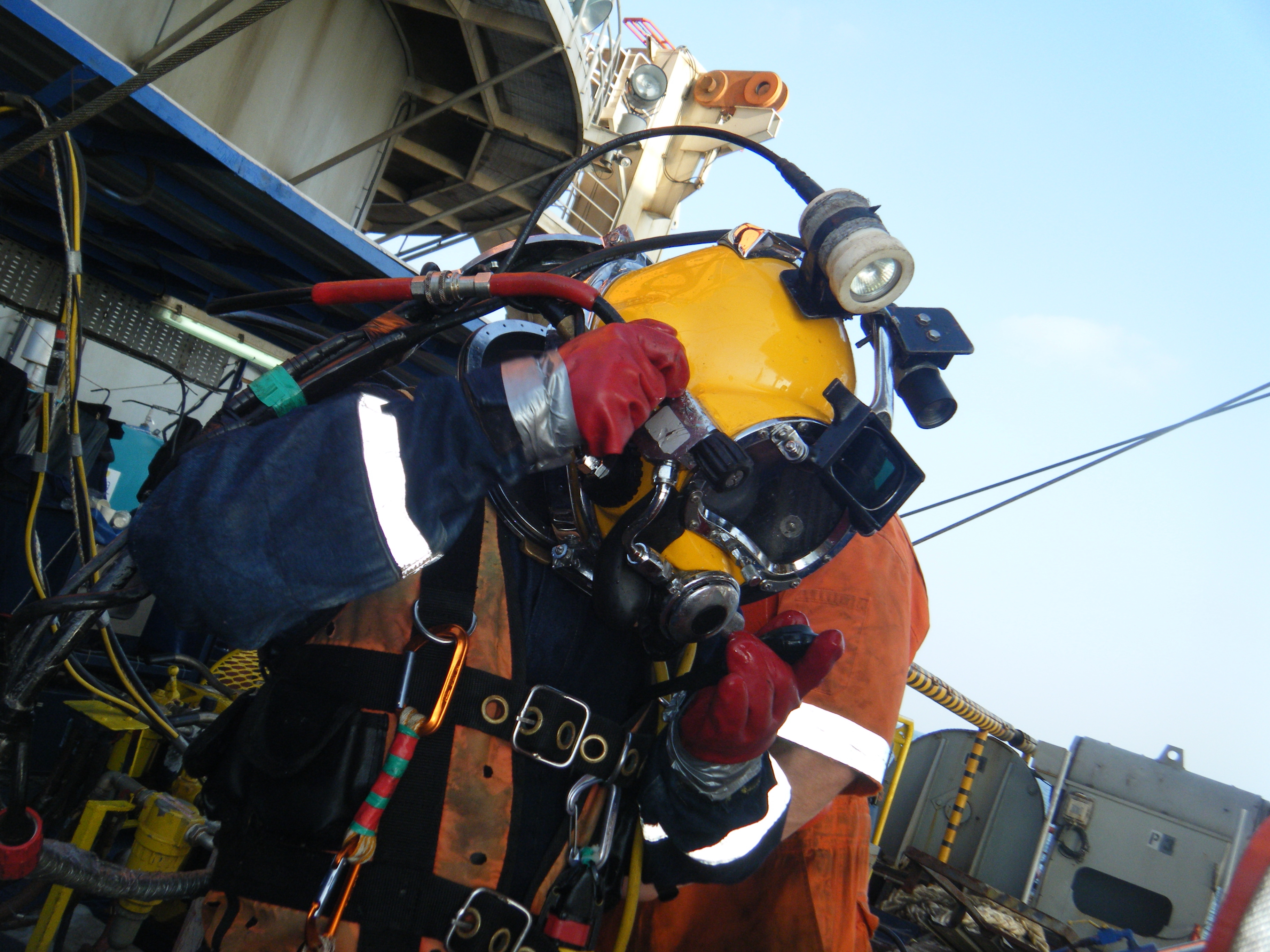 General Training Objectives
Dive Physics, Dive Physiology & Dive Pathophysiology
DCIEM Dive Tables, USV Revision 6 Dive Tables & Hyperbaric Treatment Protocols
Complete orientation and training with Kirby Morgan Helmets such as the Superlite 17B, SL 27, SL 37, KMB 18 & Various Air Hats.
Kirby Morgan User & Operators Certification
Drysuit Diving
Hot Water Diving System
Underwater Ultrathermic Cutting Systems
Underwater Welding
Dive Station Mobilization & Demobilization
D.O.T. HP Cylinder Handling and Filling Certification
Working from a Diver's Stage
Launch & Recovery Systems (L.A.R.S.)
Lost Breathing Gas Procedures
Specialized Underwater Hydraulic Tools by Stanley
Pneumatic Tools
Jetting & Dredging Operations
Hyperbaric Chamber Operations as per CSA Requirements
Surface Decompression on Oxygen (Sur-d-02) procedures.
Open water dives in accordance with the CSA Standard to a depth of 50m / 165fsw.
Mixed Gas Chamber Orientation Dives to 165fsw (New for 2017!)
Advanced Rigging
Mock Production Platform Projects including Riser and Clamp Installations
Crane Use
Video Inspection & Report Writing
Underwater Searching Techniques
Large Scale Bolt Up Projects
Large Scale Spool Piece Tie-ins
Large Scale Intake Landing Projects
Inshore Orientation
Offshore Orientation
Ship Husbandry Orientation
Introduction to the operation of a civil Inspection ROV Vehicle. CDI has purchased a new Deep Trekkerj DTGT2 Smart Vehicle to further enhance the training exposure that CDI students receive.
What you can expect on course
During the first 6 weeks of course you will spend a significant amount of time in our custom pool where your scuba skills will be reviewed and then the introduction to surface supplied equipment begins. During the introduction of surface supplied diving the training will emphasize essential skills such as: dive station mobilization, demobilization, communications between supervisor, tender & diver, hatting sequence and procedures, active diving operations and diver rotation. The key before heading out to the diving platform is to get everyone on the same page with regard to roles and responsibilities within the Dive Team. Key underwater skills that are essential before heading to the open water will be introduced and competencie will be developed and demonstrated by the students within the controlled environment. CDI Staff Instructors will take advantage of the controlled environment to maximize repetition of these key skills and to work closely with each student to insure the initial enabling objectives are achieved. You are invited to bring your SCUBA gear to school as it can be stored on the pool deck and you have full access to going underwater everyday if you wish!
Following the first 6 weeks life will change dramatically for you. CDI will be introducing a Model S-70 Flexi-float BARGE for January 2017 designed specially around the needs of trainng Canada's leading Commercial Divers. This barge has over 80T of capacity with full spud capability and will put you into an exceptional training environment. The barge will be outfitted with our custom Deep Diving Spread, Full Tool and Dive Equipment Sea-Can, L.A.R.S with Diver Stage, Diesel Jetting / Dredging Systems and full crane capacity so when your training on the Mock Production platform it will be like your at work!
Underwater Skill Development
NEW for 2019!: CDI introduced Canada's first underwater mock platform to facilitate training CDI students in the process of landing and clamping up risers. Installing Riser Clamps is one the first jobs that most new offshore divers are required to do. CDI graduates will be well prepared for their first offshore job! CDI is also doing something special to recognize our 10th year of training some of Canada's finest Commercial Divers....for 2017 all CDI Students Registered in the Unrestricted Program will receive for free the training to become certified in Commercial NITOX & Gas Blending!
Once you progress to the Open Water the Dive Team begins to really take shape. Getting into the routine of being on the water is a very important part of your training. Your class will be rotating daily through positions such as tender, diver, supervisor and superintendent so that the roles within the dive industry are truly understood and put into practice. Daily meetings covering off all Job Safety Anaylsis and Risk Assement protocols become second nature as the industries culture of safety sets in. Your CDI Instructional staff are some of the most experienced inshore and offshore divers in Canada and are often called upon to assist industry members with specialized procedures. You will be learning from some the finest professional divers in Canada.
There is no question that you will be exposed to all the weather and conditions of the real world. Expect rain, wind, lumpy seas and some sun! The program is also supported by a 23ft custom built landing craft built by Munson Marine and a small skiff powered by a 50hp Mercury 4-stroke. On the bottom you will have days of excellent visibility and then there will be days that you will be working below the mud line. Helmet lights will not help you here…work will be completed by feel only. You will work and train as part of a professional team of divers.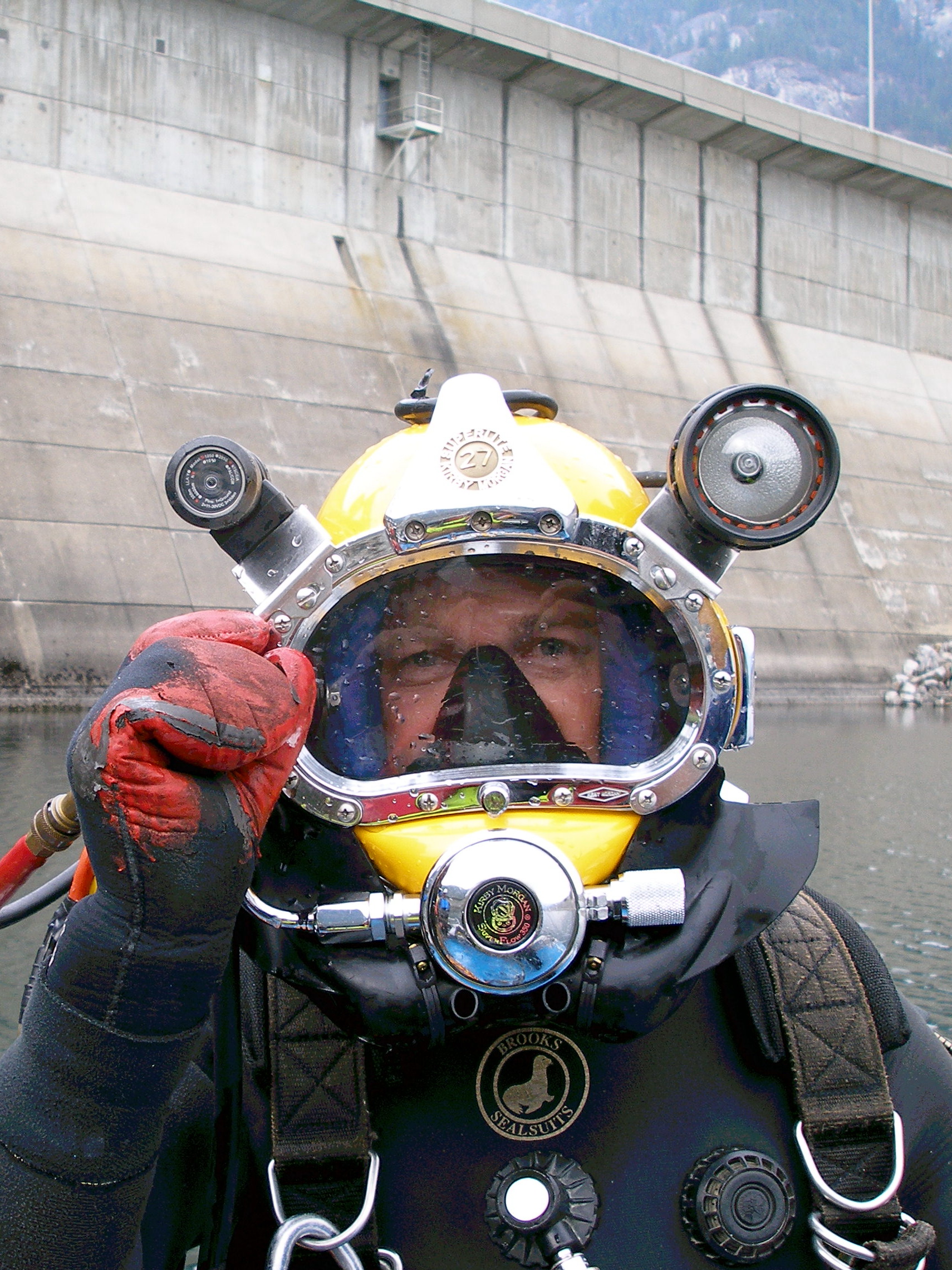 The decision to become a professional diver...
The decision to become a professional diver is unquestionably a serious one. The qualification can ultimately lead to a lifetime of adventure. In order to have the adventure and remuneration that comes with Commercial Diving one must be prepared for travel and time offshore. This may not be the life for everyone but for the ones that decide to move beyond dreaming and read these pages, the rewards are absolutely worthwhile.
"It was not that long ago that I was speaking with a colleague and the question came up why we were still in this challenging industry. After a serious conversation we distilled everything down and it came to our vision statement: '"New Horizons with No Limitations" Vern Johnston
Your adventure will take you to both inshore and offshore projects that will be very much a part of a better tomorrow for the global economy. Remember also that the Unrestricted Surface Supplied Program is the beginning of a line of courses that you will be qualified to pursue as your career advances.
All students that are wishing to actively pursue their first Offshore Contract coming right out of school will be encouraged to take the Diver Medical Technician (DMT / IMCA) program. This 2 week course will provide you increased access to the offshore market place and it is now being considerd by many Offshore Service Providers as mandatory. The DMT course is conveniently scheudled to tie-in with your graduation date and is offered at a reduced rate if taken in sequence with your Unrestricted Suface Supplied Program. CDI is one of 3 Designated Training Providers in North America that is IMCA (International Marine Contractors Association) accredited to provide this key Offshore Medical Program. Read more about this program on the CDI lists of courses that you can take.
Welcome to the world of Commercial Diving and CDI!
Presented by: Vern Johnston, Director of Operations, CDI. Feel free to contact me personally with any questions that you might have. email: [email protected]
"This program has been approved by the Private Training Institutions Branch (PTIB) of the Ministry of Advanced Education, Skills & Training".